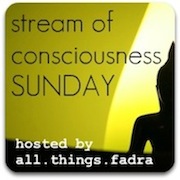 Wheeeee! The next 72 hours should prove very interesting. I leave for the Blissdom conference on Wednesday morning and will be home Sunday night. I'm a Community Leader in the Special Needs/Parenting group, and I've been assigned to facilitate some great sessions. I'm looking forward to seeing my friends, room sharing with one of the best friends a girl could ask for, and missing the hell out of my other best friend. Conferences are very important to me - not just for the networking and the knowledge, but mainly for the time with some of the nicest people I've ever met.
So, today, Sunday, and the next two days are chock a block full of prep work. Are you going to the conference? Let me know and we can be sure to connect.
I'm feeling pretty blah right now. I spend a great chunk of each day cooking, cleaning, folding clothes - and although there's value in that (or so I keep telling myself) - there's not a lot of excitement. Today, for example - I baked a chicken and smashed new potatoes for dinner, made cookies, 3 loaves of English Muffin bread, mini muffins and planned meals for while I will be away. Not a lot o'excitement there.
There is, however, the Christmas episode of Downton Abbey to enjoy tonight. Which I will. While I'm ironing. GAH.
PLEASE tell me you have something exciting on the horizon. Otherwise, I'm afraid all of us will soon doze off.
OH! Wait. I've got something. I want to get a tattoo - this saying. dodi li va'ani lo - Which is from Song of Songs, 2:16 - My beloved is mine and I am his. (Loosely) I am going to do it in the Hebrew, in script. BUT. I'm unsure where I want to get it. I've toyed with it in a heart shape on my shoulder, in script on my inner wrist, or on my side. I also plan to get a different tattoo of script on my shoulder that says M'aimer pour qui je suis - Love me for who I am. SO. Input?
This was my 5 minute Stream of Consciousness Sunday post. It's five minutes of your time and a brain dump. Want to try it? Here are the rules…
Set a timer and write for 5 minutes.
Write an intro to the post if you want but don't edit the post. No proofreading or spellchecking. This is writing in the raw.
Publish it somewhere. Anywhere. The back door to your blog if you want. But make it accessible.
Add the Stream of Consciousness Sunday badge to your post.
Link up your post below.
Visit your fellow bloggers and show some love.
Now…
1. Grab the button
(it's over in Fadra's sidebar)
2. Write your post.
3. Link up over there.