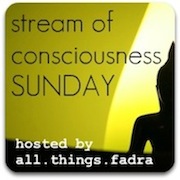 We are heavily entrenched in the paperwork right now. I've got kids who have term papers due, projects to create and applications for schools for next year, and all of this extra work has me in a funk.
It's cold. It's no longer 70 degrees - which was a total fluke anyway, but it was still superb - and now it's rainy. One of my kids was up most all of last night with tummy bugs and I'm exhausted.
I missed National Delurker day, which makes me unbelievably cross with myself, although it's really stupid to be upset by this.
I think it's all just seasonal. February is often the worst month of the year for me. It's cold, I am TOTALLY unmotivated to exercise - especially now that I've lost my ability to train boxing every day - and all I want to do is sleep. And eat. Neither of which bode well for my figure.
Blerg. Tonight, we have a SUPER BOWL PARTY - which should be good for the enjoyment.
This was my 5 minute Stream of Consciousness Sunday post. It's five minutes of your time and a brain dump. Want to try it? Here are the rules…
Set a timer and write for 5 minutes.
Write an intro to the post if you want but don't edit the post. No proofreading or spellchecking. This is writing in the raw.
Publish it somewhere. Anywhere. The back door to your blog if you want. But make it accessible.
Add the Stream of Consciousness Sunday badge to your post.
Link up your post below.
Visit your fellow bloggers and show some love.
Now…
1. Grab the button
(it's over at Fadra's Place)
2. Write your post.
3. Link up there.