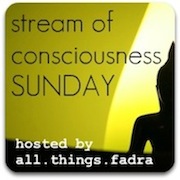 Today's (Optional) Writing Prompt: How do you feel about where you live?
 Before we moved into the house in which we live now, we lived in two houses in a year. We moved from the first house that we bought because the neighborhood was starting to become not so good, and also because we wanted a little bit bigger house. We definitely found a bigger house for the second one. Only problem - it wasn't OUR house.
The people who had owned it before us were an older couple, who had lived in the (gorgeous) house for a number of years. They'd customized EVERYTHING, right down to super expensive custom curtains and area rugs that coordinated with the wall paper, one entire bedroom that was transformed into a walk in closet, and massive amounts of small upgrades that together made the house truly custom. They'd paid the area upscale nursery to come out and completely floor plan the yard, with tons of fancy bushes and plants. There was a three level deck, a small workshop and lots more. Top of the line appliances,Pergo floors throughout, instant hot water tank in the kitchen for tea/coffee, etc. The woman of the house took great pride in matching wallpaper and curtains and flooring, and we bought a good deal of the curtains/rugs/blinds/and a couch from them because they were moving to a smaller place - he'd gotten ill - and none of it would fit. Not only that, the stuff was made for this house and it wouldn't "do" anywhere else.
I didn't like it nearly as much as my husband did. It felt as if I was living in someone else's house. There's not other way to explain it - the house just wasn't us. The kids couldn't run in the yard because it would mess up the plants, and I was afraid to do anything in the house.
We moved in in Feb, I had Emma in July, and we sold it in September. We moved to a different house, not quite so fancy, October 31, 2002. And I love it. It's just a house. And it feels like us.
There's not so much with the custom in my house, but we've painted rooms the way we like, I have wall art up, and this house feels comfortable. We have great neighbors, our neighborhood is kid friendly and sort of secluded, and close to all of the stuff we need.
Eventually, I'd like to put a hot tub in here, but there's really not much I'd do to change my house. Well, no, I take that back - I'd LOVE to pull the tub out of our bathroom (we never ever use it) and put in an enormous shower. Other than that - it's good for us.
This was my 5 minute Stream of Consciousness Sunday post. It's five minutes of your time and a brain dump. Want to try it? Here are the rules…
Set a timer and write for 5 minutes.
Write an intro to the post if you want but don't edit the post. No proofreading or spellchecking. This is writing in the raw.
Publish it somewhere. Anywhere. The back door to your blog if you want. But make it accessible.
Add the Stream of Consciousness Sunday badge to your post.
Link up your post below.
Visit your fellow bloggers and show some love.
Now…
1. Grab the button
(it's over on Fadra's sidebar)
2. Write your post.
3. Link up over there.