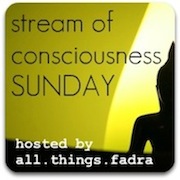 This is truly going to be a SOC, for there are a LOT of things swirling through my head - but one of them pertains completely and totally to Fadra's prompt for today - Things Better Left Unsaid On Ye Old Blawg.
SOC #1 - When you have babies, say, 6 babies in 11 years, people spend an awful lot of time telling you, "Wait until you have teenagers. Having babies is tough - but man, those teenagers - they will give you a run for your money." There's a ton of truth to that, and much of it is, unfortunately, unbloggable.
So, raising teenagers is a topic that is one of the Things Better Left Unsaid On Ye Old Blawg. Except maybe when you call your mother a very ugly name. Then, maybe, the silk gloves come off. But, really - these things are unbloggable because they make you, the reader, uncomfortable. They are unbloggable because the story is not just my own story, but it's a story of two people - one of whom would be colored with an unfair crayon. They are unbloggable because they are bad memories, gray and black and red memories that I don't want to reflect on, don't want to poke with a stick and most emphatically don't need replayed here, for they are replayed internally often enough.
SOC #2 - I was a Eucharistic Minister today for the first time. I was super duper nervous, and at one point dropped 1/4 of the cloth into the chalice - but I made it through. I was welcomed, as I have been in every aspect of church life, and pronounced a blessing to have around.
After the rest of today, that's a nice concept to ponder in my heart.
SOC #3 - There are a lot of times that I write letters, especially if I see a policy that isn't enforced appropriately, a situation that I feel is unfair, or an injustice has been witnessed. Some of those letters are rebutted by people either more intelligent or more dilligent than I will ever be. Occasionally, though - one of those letters results in, Yes, you are correct, our policy is wrong and we need to fix it - and it pertains to a kid. And when something like that happens - well, I feel warm and fuzzy and like I've used my powers for good.
SOC #4 - Have you seen the Hunger Games movie yet? What did you think? If not, do you want to see it?
This was my 5 minute Stream of Consciousness Sunday post. It's five minutes of your time and a brain dump. Want to try it? Here are the rules…
Set a timer and write for 5 minutes.
Write an intro to the post if you want but don't edit the post. No proofreading or spellchecking. This is writing in the raw.
Publish it somewhere. Anywhere. The back door to your blog if you want. But make it accessible.
Add the Stream of Consciousness Sunday badge to your post.
Link up your post below.
Visit your fellow bloggers and show some love.
Now…
1. Grab the button
(it's over on Fadra's sidebar)
2. Write your post.
3. Link up over there.